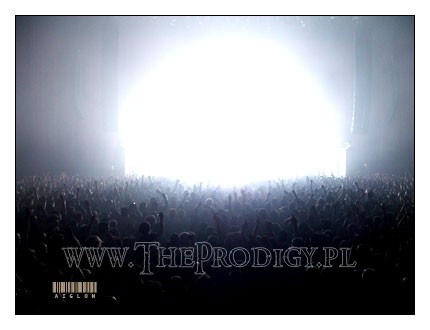 zaebi skara i pivo
Drammatis Personae – 2 MAJ 2006
Lica- Jas, Spodek,
The Prodigy
. zelena petokraka,
Big
Shining Disco Ball, 5 znaminja, afterparty feat Kieron i Rob, dva voza.
Jas – vidi blog
Spodek – najgolemata letechka cinija vo Sredna Evropa, a sigurno najgolema vo Polska. Vo slobodno vreme sluzi za koncertna sala, i godi. Pred Spodek ima 6 vleza i pred sekoj vlez ima identichna guzva. Vnatre ima 6 garderobi i samo dve prozorcinja so depozit. Spodek e edna od retkite pricini, ako ne i edinstvena, da se zivee vo Katowice. (in the meantine, vo Wroclaw, kade shto zivotot bi bil sovrshen da imavme Spodek i more, se slucuva Arman Van Bureen i slicni sranja)
The Prodigy – they are the firestarters, twisted firestarters. – Liam, Keith, Maxim, Kieron Pepper (perkusii) i Rob Holiday (gitara – tipot bese ludnica!!!!)
Setlist – izmislen (za pre-intermediate fanovi), starring – Their Law, Smack My Bitch up, Poison, Back2School, No Good, Wake the fuck Up, Vodoo People, Warning, Spitfire, Firestarter, Everybody's in the place, Diesel Power, Dead Ken Beats, Out of Space.....(redosledot e slucaen)
Publika – od 7 do 77. Letacki lugje, moroni (primer – Maxim vika – Where are the fuckin Polish people, moron vika – Yeah, the police, fuck the police) , pre-intermediate i upper-intermediate fanovi (feat. myself), fanatici , toni pot i 8 iljadi bolni grla.
Efekt – sfe me bole a vo glava mi skokaat malecki Keithcinja i Maximcinja, od ocite mi svetka stroboskop
videte si sami....
-
http://muzyka.interia.pl/galeria/gid/6617
-
http://serwisy.gazeta.pl/fotografie/1820649,35080,2803320.html
more to come