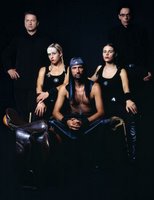 Posle 12 odrzani casa i jadenje eden tost vo meguvreme trcajki se kaciv na tramvajot broj dva koj me odnese vo Wroclavskoto filmsko studio na koncertot na LAIBACHvo ramkite na Vishechradskiot festival (koj dosega se sostoeshe vo glavno od gostuvanja na Gerhard Shreder i Sirak, ili pak od koncerti na klasicna muzika)
Bidejki najalternativnoto neshto shto moite drugarki go imaat slushnato e nirvana, i toa slucajno....si otidov na koncert sama shto rezultirashe vo toa shto pred koncertot piejki pivo imav moznosti da nabljuduvam parada na sado-mazo karakteri (teenageri koi doshle na koncert koga doznale deka Laibach e neshto kako Rammstein – slushnat muabet...awful!!!) koi vleguvaa i si ja popravaa sminkata pred da pocne svirkata. Publikata sepak pred se sostoeshe od lugje nad 30 (a duri i nad 35) godini, blagodarenie na toa se beshe kulturno i civilizirano. Nikakvi sutki, nikakvi pijancenja site shto slucajno me turnaa mi se izvinaa 10 pati...
Beshe GENIJALNO! Stoev edno 3 metra od scena zalejki deka nemam so sebe aparat (iako so ovaa mojata krntija nemase se somnevam deka bi mi izlegla nekoja asalna fotka)...sepak...vo attachment na linkot ima avtenticni sliki napraveni od nekogo vcera:)
blagodarenie na toa shto 70% od rabotite shto gi svirea bea coveri teshko deka na nekoj mu beshe dosadno. Jas licno najpoveke se izraduvav na izvedbata na God is God nekade 5-6 po red. Izvedbata beshe odlicno osmislena, dozivuvanje i za ushite (ushte me bolat) i za ocite...Koncertot (posle dolgo i machno i vozbuduvachko cekanje) zapocna so In the Army now a zavrshi so (moze da se pretpostavi) das Spiel ist Aus (kako kraj na prviot i edinstven bis koj zapocna so Mama Leone)
Posle koncertot celata polna so pozitivni vibracii reshiv da se vratam doma ne samo zaradi toa shto bev umorna tuku pred se za da ne si ja syebam vecerta so glupava muzika pustana po wroclawskite klubovi...sado-maso karakterite koi se vrakaa so mene vo tramvajot se upatija na depeche mode zurka a jas sedev do polnok slusajki ost-to na blair witch project...imav ubavi sonishta...
Na 12 dekemvrei odat za BELGRAD....moja preporaka – GO! and tanzt mit laibach!!!